Since it is clear that technology significantly alters the way we work, the question remains as to how this affects workplace wellbeing, safety, and health.
The Occupational Safety and Health Administration (OSHA) June 21 published in the Federal Register an emergency temporary standard (ETS) for occupational exposure to COVID-19. That requires healthcare employers to take specific steps for protecting their workers in settings were suspected or confirmed COVID-19 patients are treated.

In response to President Biden's executive order on protecting worker health and safety, DeepX introduces the following research and review of the latest technology solutions for occupational safety and health monitoring.
The current impact of Artificial Intelligence on occupational safety and health
Nowadays, advanced countries are allocating significant pots of funding, in the order of billions, to research and develop AI, with the United States in the lead, closely followed by China and Israel.
With the increasing demand for AI technologies and the current state of progress in AI research and development, automated systems can now perform physical tasks with various cognitive ones, such as driving autonomously or assisting with legal casework or medical diagnoses. As a result, the use of AI-based systems is expected in multiple sectors and settings, ranging from manufacturing and agriculture to the care sector, hospitality, and education.
The impact of artificial intelligence creates new opportunities while also posing new challenges for occupational safety and health (OSH) management or regulation in the workplace.
Artificial intelligence aids in the emergence of new forms of worker monitoring based on collecting vast amounts of real-time data. These novel forms could improve OSH surveillance, reduce exposure to various risk factors, and provide early warnings of stress, health problems, or fatigue.
How can Artificial Intelligence be used for OSHA compliance?
AI-based worker monitoring gives an opportunity to improve OSHA surveillance, reduce exposure to various risk factors such as harassment or injury.
Individualized real-time monitoring can influence worker behavior and improve safety and health.
AI-powered monitoring can aid in evidence-based prevention, advanced workplace risk assessment, and more efficient, risk-based, targeted occupational safety and health inspections. Organizations could use the information to identify OSH issues, such as psychosocial risks, where OSH interventions are needed at the organizational level.
Still, as AI remains a new and undiscovered technology to the work safety monitoring market, it is essential to remember that the need to collect data on workers should be balanced against their right to privacy, safety, and health. It is critical to ensure transparency in collecting and using such data, so the workers or their representatives should be empowered by having access to the same information.
What are AI solutions already being used for workers' health and safety?
Since AI in the workplace is a relatively new area of experimentation, and companies typically do not publicly share details of internal trials or practices that incorporate AI, there is little data available indicating how much and where it is being used.
The data and reporting that do exist, both about company usage, state, and corporate investment, as cited throughout this report, show that AI is more than a passing fad. Trade unions, works councils, safety, health organizations, and training bodies have begun to ask various ethical, occupational safety, and health (OSH)-related questions that reflect a drastically different future for work.
How can AI be used for OSHA-compliant PPE monitoring?
AI opens up a slew of new opportunities while also posing new challenges to occupational safety, health (OSH), management, and regulation. The majority of the discussion surrounding AI is about the number of jobs. Still, it should also be about job quality, occupational safety and health are vital components.
AI solution for real-time workers monitoring
Getting more into practical application and the potential of AI tools for occupational safety, let's review the solution provided by Deepx for maintaining OSHA compliance.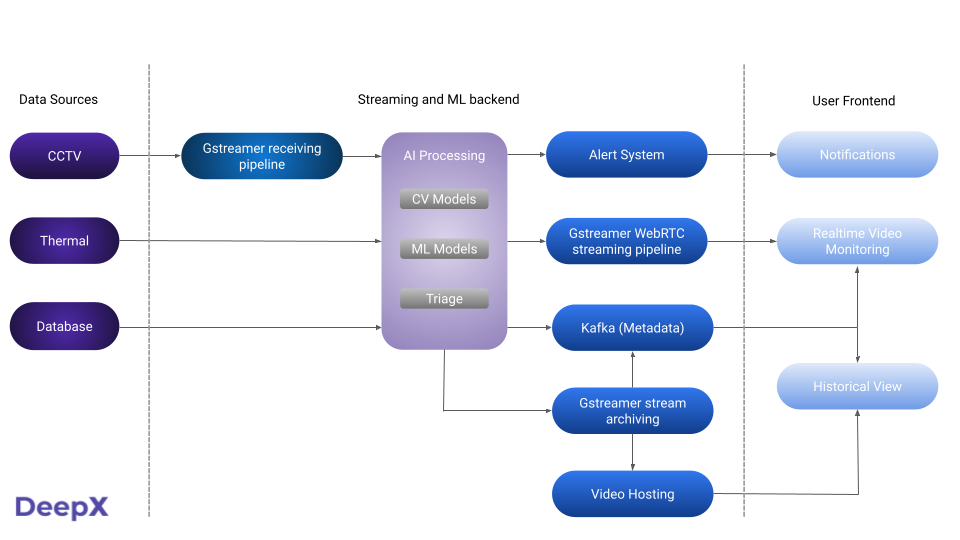 The complete and highly scalable AI-based system presupposes multiple data sources: CCTV cameras feed, body temperature monitoring, and other data accessible from the database. Visual data from CCTV cameras is received by Gstreamer pipelines and fed into the main AI module containing CV/ML models for real-time processing.
The most significant advantage of using Gstreamer is high resource effectiveness in terms of computational power use, as well as flexibility and reliability.
The main AI module can also ingest other types of data available, providing effective data fusion, precise decision-making, and triage of high-level data, allowing for interoperability in healthcare. CV/ML models being used in the system have shown a high level of precision, already outperforming human personnel when it comes down to real-time 24/7 monitoring.
While the attention of human operators fluctuates over time, and it's practically impossible for human workers to keep an eye on multiple video streams at once, AI workers never get tired.
Thanks to horizontal scalability based on Kubernetes, the system can simultaneously process a large number of CCTV camera streams and other data available. Hence, this not only allows for automating our main task, maintaining OSHA compliance but also increases the effectiveness of processes under consideration.
Based on metadata generated with CV/ML models, a highly reactive triage system can immediately shift operators' focus to the most critical events and produce notifications when an important event occurs.
If, for example, someone from personnel had contact with a COVID-positive person, the further movement and contacts of this person can be automatically tracked by the AI system.
In terms of data preserving and reviewing the events in retrospect, the system can also provide an AI-driven solution called Historical View. It includes video and metadata processing plus archiving with Gstreamer and highly scalable Kafka to allow further access from the user interface.
Having terabytes of unprocessed video feed from multiple CCTV cameras makes it very difficult, if not impossible, to check if important events have taken place. This task can easily be accomplished by using CV/ML processing, saving the videos and timestamps of events into Kafka, and giving the operators the ability to immediately access those events by highlighting all of them on the intelligent timeline of a video player.
Our system also provides a multifunctional user interface for operators. The features include:
Dashboards containing multiple camera streams with real-time AI processing, transmitted with WebRTC technology into one convenient monitoring tool
Alerts based on AI processing produced for operators if any significant events are taking place
Realtime monitoring of essential parameters transferred from CV/ML modules
Triage of camera feeds by importance based on AI-driven situational awareness
Chats for multiple camera feeds to notify other responsible personnel involved in monitoring if some spotted events need their attention or actions
Historical view for getting access to archived video streams and event highlights on the smart timeline.
As to conclude, compliance with OSHA standards and guaranteeing human health safety during a pandemic is possible only with the provision of a high-quality technological solution that can better optimize hospital performance and follow all necessary recommendations without spending extra time and human efforts.
If you're seeking new opportunities, then trust our vast experience and open your door for innovations! Our expert team will lead you through all the processes of technological solutions' implementation, in accordance with all standards. Contact our specialists and get a free consultation on the possible AI utilization for your business.
At DeepX, we synergize our multi-year expertise to dive deep into each business' specifics and achieve measurable business benefits. With our continuous research and a history of successful computer vision software development projects, we offer highly specialized expertise in some of the most challenging fields of computer vision.